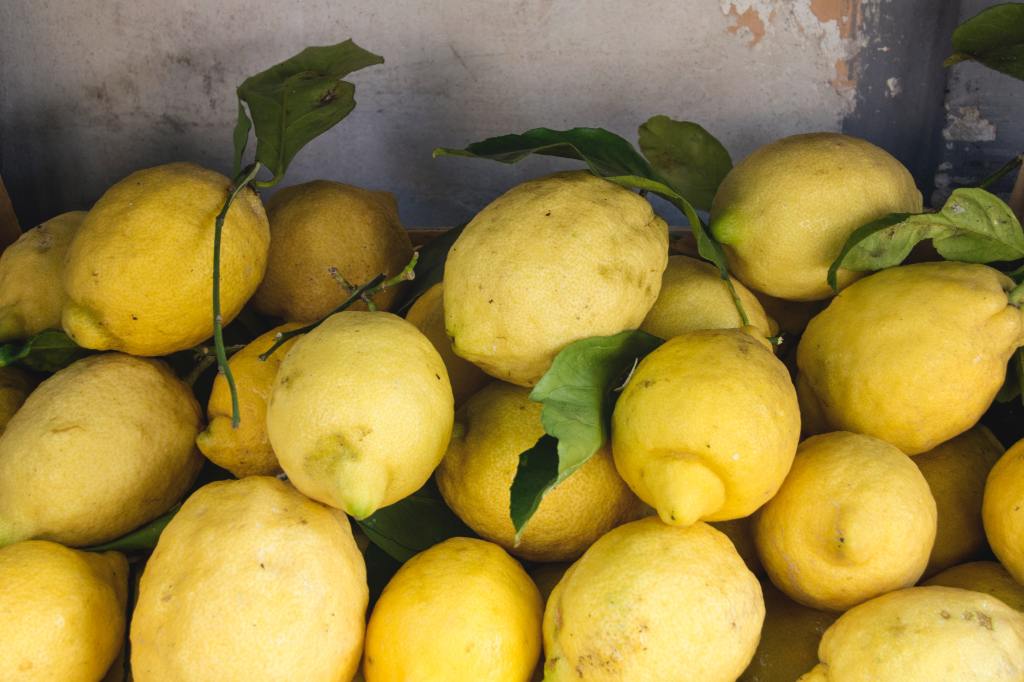 We've all been down with a family cold since last weekend. (Our canary Eleanor tested negative for Covid, so we are not concerned about that. Plus the numbers in Italy and in Tuscany are very low.) Thoughts must turn to cheerier things. When life gives you lemons, make lemonade. Lemons three ways…
The waxy skin wins it. A bowl of lemons always looks like a perfect still life painted by a Dutch master. Years ago, when I lived in Wallingford and had blue and white crockery bowls in the kitchen of my rental house, I would buy bags of lemons at the QFC on Forty-Fifth Street and dump them into the bowl where they cheered me through the short winter days like a dozen perfect yellow suns. Lemons as a bouquet, and cheaper too, I thought, always scraping bottom then.
In Spain throughout the winter and spring I ordered té manzanillo dozens of times before I realized it was chamomile tea. Oh the joys of unknown words that mask the familiar. In every bar in the old town of Santiago they served té manzanillo in the same thick white teacup with a saucer, the tag hanging lazily over the rim, a thin slice of lemon clinging to the saucer's rim. How the Spanish loved tea in their lemon! To brighten it, my English friends told me, even though every English friend I ever had in Europe back then took their builder's tea with a generous plug of fresh whole milk and a spoonful of sugar. I squeezed my lemon dutifully into the cup of manzanillo. It was confusing because manzanilla was also a kind of fortified wine that came in a wooden cask in the basement bar that I frequented in the old town with that rogue Coco. I sipped té manzanillo on those endless grey days when the woollen clouds hugged the over-the-top Baroque steeples of the cathedral. When I discovered that it was chamomile I liked it less, and these days I can't stand the dusty gutterings. Even a fresh lemon slice fails to sufficiently brighten that slice of mouldering attic for my palate.
If you ever feel like you could never tire of lemons (I raise my hand), head to Sorrento, where the poor fruit is fetishized beyond all reason. Lemons on tea towels, ceramic spoon holders, festooning plates and garlanding trivets and wreaths, tall narrow bottles of limoncello creating their miniature cityscape in every tourist shop. Ceramic lemons, wooden lemons, lemon lemons. They roll through the town squares, collect under benches, hang like Christmas ornaments from the ubiquitous, richly leaved trees. The citizens of Sorrento live for lemons with nary a pucker.
If you've had a bad experience with limoncello in your life (that is to say, have you been a student), I invite you to try the limoncello of Sorrento, where it is served in a diminutive frosted glass, the bottle crusted with ice from the freezer. Tip the elixir into your modest cup. Don't be offended by the small portion. The punch more than makes up for the size: astringent, sunny, positively Roman. Your jaw tenses, expecting to hit a seed or two. But no. It's just solar energy and citrus goodness, summer and heat captured and chilled, warming your innards with its Mediterranean imprint. The bottle, now slowly defrosting, has been generously left on your table, should you wish to have another, or another. One wonders if Cicero kept limoncello to his recipe on his southern estate, deep in an ice grotto of his own design. One hopes so.
Footnote: Manzanilla is a dry white wine made from palomino grapes, aged under a layer of yeast called veil de flor. Wow. So wasted on a teenaged me. Sorry manzanilla.