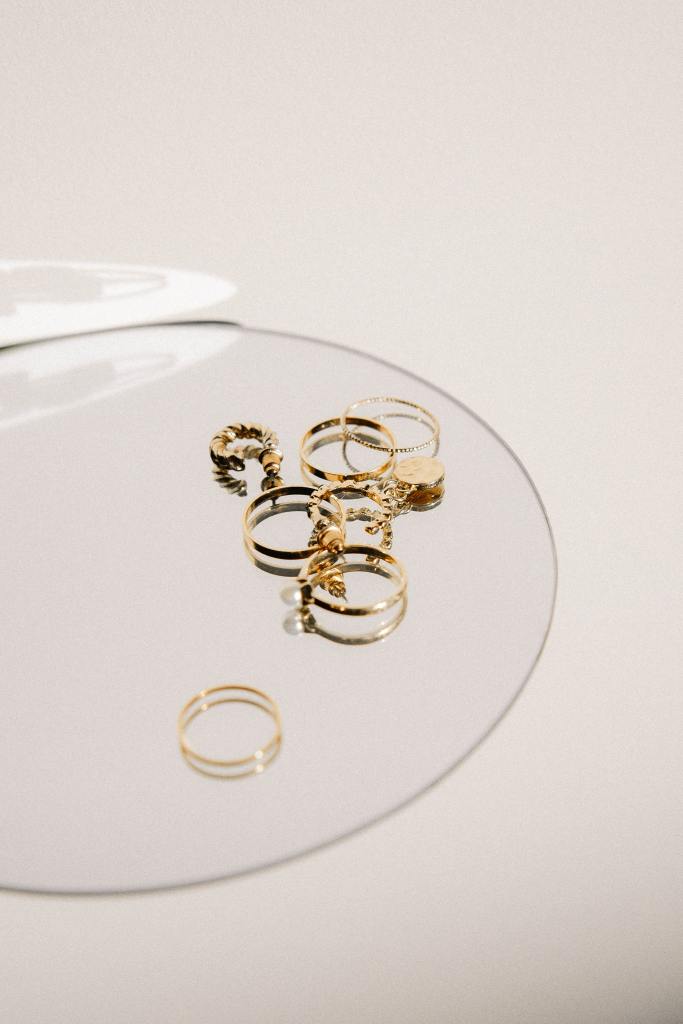 We went back and forth with the insurance company a few times about the popped diamond. We insisted we had no access to anything like a receipt of sale or an appraiser's report. Well, the claims adjuster replied, can you write us an account of the circumstances under which you lost the diamond?
Yes, I can, I assured her with confidence. You have asked this policy holder the right question. I wrote a few paragraphs and sent them to her.
She came back with a few market comps. Do any of these look like what you lost?
I began to feel sheepish for having doubted their level of service earlier, when she was just checking her boxes and going through her process as she was trained to do.
Yes, all of those are quite nice, I responded.
Indeed, the value of the new rings she selected to show were almost 50% more than our original ring. The rings were all very, very nice. Perhaps they are also trained to adjust for inflation, I wondered.
Great! she answered. We'll deposit it to your account.
And just like that, the money appeared. Diamond, poof out! Payout, poof in!
(No Italian to whom I have related this story can believe this detail. There is absolutely no way any Italian insurance company would have ever paid out based on a story you wrote them, they all laughed. Well done you and your American policy.)
To be fair I had carried the policy for the better part of two decades, and even at the relatively modest premium, the passage of time had made it more like an escrow account.
I'd never had reason to make a claim against the policy before. This was my one piece of jewelry that was not shared with Eleanor, or purchased from H&M accessories or Fiori del Tempo here locally on Via Ginori, the last one owned by an Italian family whom I adore, but even they would characterize their jewelry as no more than tasteful sparkly bits. I have other pendants carefully wrapped with their own strings, alpine edelweiss on black rubber chokers, an actual knotted string of pearls that Jason bought me one Christmas years ago. But nothing worth more, in the end, than fifty dollars or so. I remember when I was a child how my mom bought Avon accessories like they going to shut down the Avon jewelry factory and lay off all the Avon workers next week. I gazed at her Avon jewelery boxes in faux Delft atop her bureau, brimming with long chains and plastic cameos, and the jewelry chests seemed as fantastic as the hidden trove of Aladdin himself. I am a magpie with a sense of economy.
So I was a bit nonplussed about how to go about locating the new ring that I would imbue with sentimental heft. I knew the ring would become a story of its own. Well kids, that summer day in the bathroom of the rest stop in Liguria, Victor and I were washing our hands, and it must have happened then, but I heard nothing, not a plink….
Jason found my diffuse wondering very amusing. Trying to buy a piece of fine jewelry in Florence is like wondering in Anchorage why they don't put more ice in your drink. Just ask! So I started asking around. I also began casually perusing the windows of the dozens of fine jewelry shops I come across every day in my routine perambulations around the city. But I have rarely been one for new baubles. It's surprising really that we bought a new engagement ring in 2004 from the caveman internet.
I was shocked by the price tags on new solitaires. I don't love new gems anyway. I don't love the industry, I don't love the idea of their unfree trade. I was set on a vintage ring. I put out a few feelers here and there, to the older members of the parish of St. James Episcopal Church, as well as lighting up the switchboard to our Italian friends, in particular our family friend Flavia, whose family we know well. They all seem to work in fine jewelry or high fashion in some capacity throughout the cities and towns of Tuscany and beyond.
Flavia responded quickly. You need to talk to my great-aunt Grazia, she said. I remembered Grazia from Christmas of 2016, which we four spent at the house of Flavia's parents, how Grazie handed around parcels of vintage jewelry to all the women in Flavia's family. I am pretty sure this magpie's beak was agape, thinking hook me up! How do I get grandauntied in to an auntie like that?
I wasted no time contacting Zia Grazia. She said she'd sadly had to close up her shop full of vintage jewels on Via della Condotta thanks to the wreckage of the lockdown and the pandemic, but that she'd be pleased to receive me in her pied-à-terre in centro, and would I please let her know what I was looking for, and my general budget? Certo, I said. A vintage solitaire of any century, ideally in white gold. I told her an amount that more or less matched the insurance payout.
She promised to carefully review her collection and to select a few pieces for us to look at. I kept looking in jewelry store windows out of habit.
Next: admiring the jewels of minor Medici with Zia Grazia.