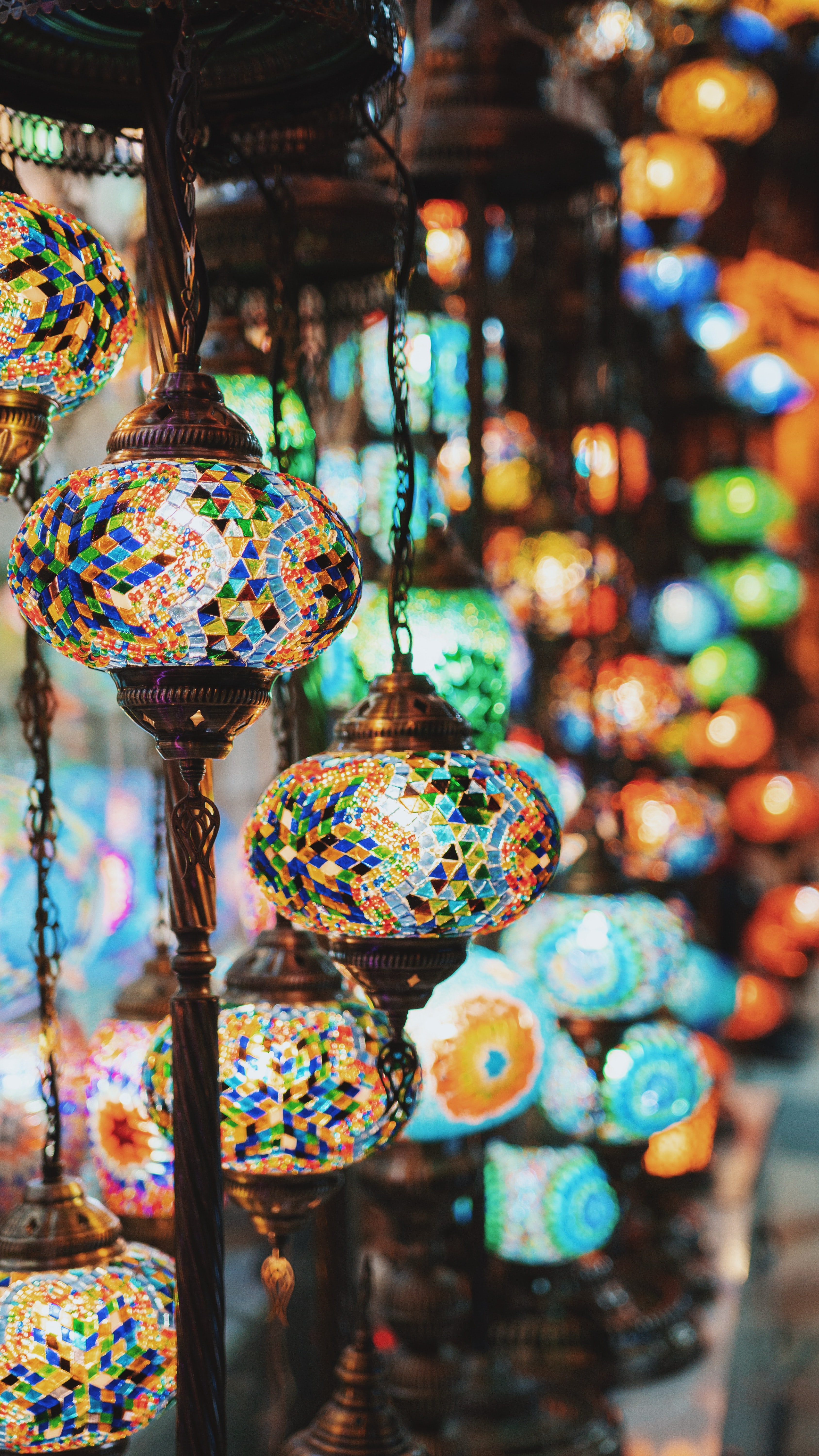 My Finnish possible heritage compels me to investigate communal bathing whenever I find myself far afield: Spain, Mexico, Argentina, Hungary, Estonia, Finland, Sweden, Italy, the U.S. Now for France! A bit of extra time at the end of my recent Episcopal jaunt to Paris gave me a few ideas. I checked out various spas (from the Latin, Salus per aquam, made into a Roman acronym. Health through waters!), heard about the Nuxe and Caudalie spa centres (I adore both of these brands, so that was tempting), then my friend Flo said, you should go to the hammam of the Grande Mosquée! It's in the Fifth Arrondisement, I've only ever been to the tea garden! My curiosity was immediately piqued. As soon as I confirmed late Friday night that the hammam was open for bathing Saturday at 10 am, I was resolved to go.
I was travelling light, just a backpack and a purse, and quickly found my way on the Métro to Austerlitz. In the backpack was a two-piece swimsuit I had tucked between my rolled summer dresses, hopeful I would find an opportunity, and here it was! People on the Métro who saw me smiling might have thought I had just received some other sort of Very Good News but I was just very much looking forward to an extremely local and specific spa experience.
Getting out of the Austerlitz construction zone was another matter entirely but after eavesdropping on the chatter of a quartet of French women, I followed them out and crossed the street to follow the length of the Jardin des Plantes. (I think it is really funny that French specifies, this is a garden of plants. What else would be in a garden? But perhaps this is a linguistic lacuna, such as when French says that something is a salade, which could mean a green thing is involved, or could mean some things are mixed together, such as jambon melon, or a salade de musau featuring a diced porcine snout with visible nostrils atop a bed of sad soggy lettuce. In any case, leagues from the salad bar popular in the North American imagination.) The Grande Mosquée is the biggest in Paris and lives up to its name. Its massive whitewashed stucco hulk, delicately laced with kelly green screens, towered over the street corner. The entry was discrete but I had done my research the night before and walked through the hidden door behind the café's glass pastry case and stepped into a dimly lit interior courtyard.
The elegantly dressed madame at reception (hijab, perfect eyeliner) explained the options while I studied the menu. I agreed to a gommage (all-over body scrub), massage (argan oil!), and mint tea. But for an extra ten euros you can get the déjeuner! she urged me. Sold. I grabbed my claquettes (flip flops), was handed a towel, a scratchy mitt (very very scratchy – more on this), and a packet of special soap (more on this). I went back to the vestiaire to change.
The hammam is not for the faint of heart or nudophobes. Get ready to undress and scrub. The Maghreb-flavoured spa was all business. A woman in the shower explained the soap packet to me. I cut it open and applied the oily, olive-scented scrub soap all over my skin. DO NOT RINSE! she reminded me. AND PUT YOUR TOWEL BACK IN THE LOCKER! I followed her second piece of advice only to somehow set off an alarm as I pressed the wrong order on the key pad, but a cleaning lady had a bracelet to quiet the shrill warning and reset the code.
Relieved I wouldn't be responsible for the evacuation of the hammam, I mazed my way through the thick air to the hottest, steamiest steam room for my prescribed twenty minutes. The marble floors of the spa were heated from below while the steam pushed out of marble vents in the wall. Hot condensation dripped from the ceiling. I repeatedly refilled my plastic bucket from the cold tap. The olive soap began to smell better and better in the warmth as it lathered up lightly. I could not stop sniffing my forearm. When I could stand it no more, I moved to the second room, which featured six bathing alcoves, also with heated marble floors, and their own private taps. Each sauna-sized alcove would have fit six to eight women, but I was by myself and took one. I tried out the scratchy kassa (glove) and was delighted to see its immediate exfoliating effect as rolls of grey skin began to slide off my skin. A raised marble dais in the center was inlaid with a marble cherubim or maybe a compass rose. The vaulted ceilings were lit by clerestory windows, further covered by latticed screens. The vibe was steamy, content, and private. I jingled all the plastic tags on my numerous rubber bracelets and thought, RIGHT. Let's get this gommage going. I took my bucket and kassa and sat in the waiting area.
Three women who looked North African were scrubbing, each with a pink body laid out on a marble bed. Back, then front, then sit up for more scrubbing around the neck and shoulders. I was happy to see this level of grandma attention to skin and the care with which they treated each client. Much Parisian skin needed to be exfoliated that day, so I waited my turn. I was very familiar and in fact couvetous of the treatment to come, so patience was on my side. I have only managed to procure this type of scrub once in Hungary in 1995 at the Gellért, and once in Tacoma at a Korean spa where a tech in a sport bra and a girdle took my skin almost down to raw meat.
The grandmas motioned me in, and pointed to the shower. Once I was clean, my grandma took my gommage bracelet, laid me on the marble bed and went to work. She was all business, excellent and efficient. I felt the buildup from years of using lotion and sunscreen and suffering dry skin in winter all slough off and be rinsed away. Tout finis! she announced, and off I went into the next shower. By this time, feeling very relaxed, I kept my swim top in the plastic bucket, and headed back for some more steam, my service tokens clacking quietly.
The massage salon was situated on the upper floor, in a beautiful gallery of wooden trellises and bright paint. I was whisked into a room where once more a no-nonsense tech used approximately one litre of argan oil as she worked me over, front to back. The oil smelled like the garden of eden. Beaded curtains separating each treatment room rustled gently in the breeze as staff bustled by with clients. By the time she was done I felt like a roast ready to go into the oven, so I did exactly that. Down for more steam. My skin by now looked like a baby's, oiled and washed and scrubbed and oiled. The steamiest steam room was really hot by now, so I crawled into the tiled cold tub and remained there like a fun-sized pink hippo. I honestly felt like I was visibly becoming thinner in the steam and from all the sweating. I wasn't even hungry but knew that when I did locate my appetite, I would be ravenous (more on this). Ironically both times that I was in the cold tub it was full of the only loud women in the hammam: first Italians, then a group of Brazilians.
There is a lot to be said for the body positivity of an all-women bathhouse, and for the level of care and attention, and how much happier this makes a person feel to have a body, especially a person approaching the mid-century mark with years of post-partum and breastfeeding under the belt. It's a level of calm that is difficult to approach in a bath or shower at home. The industrial steam helps. The communal setting of intention to relax is also strong. But relaxation is a commodity for sale. More than one of the staff seemed to be having a very stressful day. A cleaning lady leaned on a mop, hissing her grievances with the the first woman who had explained the soap packet to me, and the extremely capable grandma who had so efficiently scrubbed off all my dead skin was weeping in a corner talking to the beautiful receptionist, ils disent que les clientes …. I felt bad when I saw the grandma crying and wanted to tell her how perfect her treatment was for me, but I felt like the timing wasn't ideal for such a move.
I successfully retrieved my towel from my locker without setting off any alarms and went to the main internal courtyard. Now I was down to my last bracelet: thé du menthe. The lovely receptionist poured me a glass of hot, very sweet, mint tea, and I found a quiet corner to relax in while my tea cooled.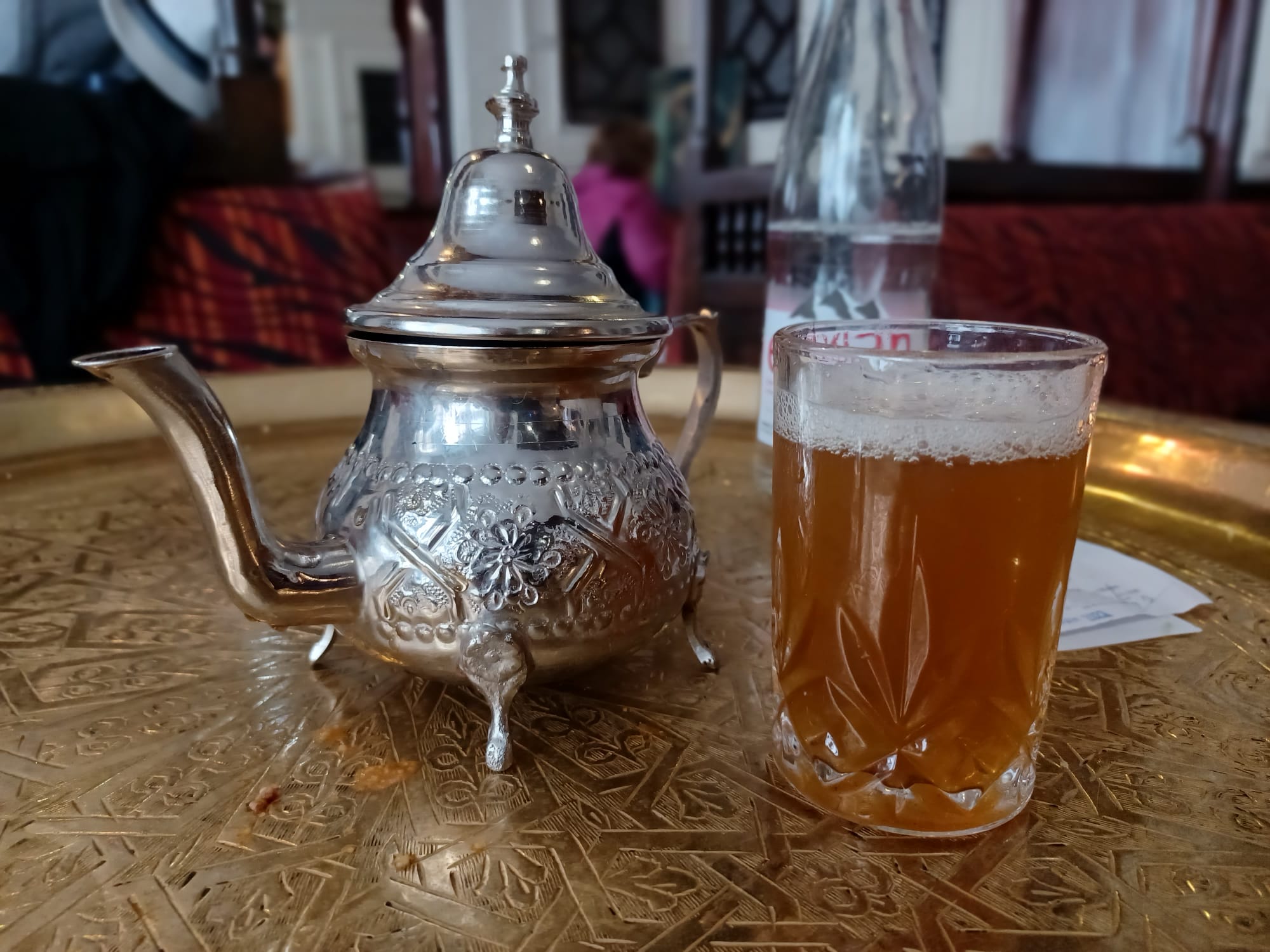 Usually in situations like this I like to have something to read, but I was in that spa for close to five hours and never felt like reading anything. I was just reading my own thoughts, doing what the protagonist does in "The Snows of Kilimanjaro," where he mentally reviews various stories he never wrote – writing without writing, reading without reading. I wasn't near death, but I was feeling very drowsy indeed by now, surrounded by low-volume French chatter. It was hard to know what time it was. No clock anywhere. I finally spotted one over the reception and began making my plan to ease into a less steamy, more dry, more robed world. I had a flight to Florence in the evening and would need to head to the airport by no later than four, and a Hammam Value Meal to put down before then. I made one more fast circuit, then got dressed and thanked the staff on my way out.
The quiet of the hammam was not matched in the restaurant. The place was bustling like I've never seen a Saturday lunch service bustle before. I realized that half of the guests were drinking the sweet mint tea and nibbling on small pastries. I, on the other hand, was now starving, and when the liveried waiter came I quickly made my selections, handing over my lunch ticket and looking forward to my halal kofta couscous. The people watching was superb, but I didn't have to snoop on strangers for long because the waiter reappeared with my lunch: a platter of couscous, three huge flat meatballs, a tureen of stewed vegetables, a ramekin of chickpeas, and a ramekin of sultanas. The eyes at the table next to mine grew so big they almost popped out of their sockets.
But the waiter was not done. Oh no. Do you need the spicy sauce? the what? more? there's more food? oh wait. Oh Yes I need all the spicy sauce! I smiled. He ginned broadly and reappeared with a third ramekin of red paste that would easily have powered a rocket ship. I dispatched my plates with gusto and reflected on the wisdom of this particular pre-departure lunch. The much younger dessert waiter came by and theatrically poured me some more mint tea (pictured above) and brought back a gargantuan platter of sweets from which I was permitted to select one. Just one?! I exclaimed. Oui madame, he nodded, patiently poised with silver tongs midair. I quizzed him on the contents of the mini burritos and baklava, and finally selected a hard, nutty pirouline dripping with honey. After I polished off the pirouline I silently conceded that one, in fact, had been enough. More than enough!
And so, five hours after my arrival, I was clean and feed, scrubbed and oiled, calm and ready for travel, my backpack carefully zipped, my phone in my left hand with the map active. I left through the same diminutive, single-person-sized entrance and started walking toward the Seine. I bought Eleanor two French berets on the way, just as I promised I would.